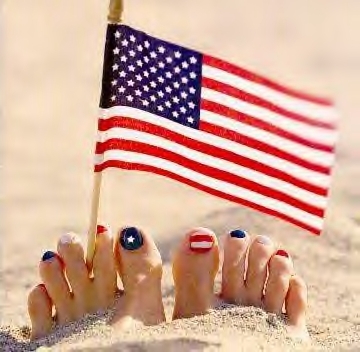 The 4th of July is almost upon us, and many of my American counterparts will be heading out to the beach or the river or the lake, taking in the sunshine and celebrating. I don't know about you, but road trips are always so fun because of the music that accompanies them. Sitting in a car with your favorite music blasting is one of the best ways to begin a vacation.
That being said, I'm famous in my circle of friends for creating insanely large playlists that we call mega-mixes. This all started when I was around 19 and my first real car had a CD player that played MP3 CDs. The ability to put over 100 songs on one disc was unbelievable to me, so I took advantage of it. It goes without saying that my friends and I did a LOT of road tripping (mostly following bands across state lines).
In the spirit of travel, I created a party-centric 4th of July playlist that I'd love to share with those of you traveling. It's all on Spotify, so you're welcome to follow it and enjoy, I'll most likely keep updating it throughout the morning as I think of more fun music to add. It's mostly country music, but you'll definitely find some pop party anthems and classic rock mixed in. Also, it's really large, I have a 5 hour-ish drive ahead of me and then another one back. So… don't judge me. Don't forget to press SHUFFLE so that you don't listen to it in order! Let me know what you think and even if you're not celebrating the 4th, I hope you enjoy!